Founded in 1954 by Tsung-Ming Tu, the first medical doctor in Taiwan, former Kaohsiung Mayor Frank C. Chen and others donated land and money to create the first private medical school in Taiwan, Kaohsiung Medical College, and opened up modern medical education in southern Taiwan. Today, Kaohsiung Medical University has become the leading medical center in southern Taiwan and considers taking care of and serving the disadvantaged groups as an essential mission of medical education, it is committed to providing medical services in remote villages and international medical services, and spares no effort to fulfill the social responsibility of the medical university.
There are six rooms for KMU history exhibitions, showing the history of the school since its founding and the development of the affiliated healthcare system:
1. Frank C. Chen and the Board of Trustees Exhibition
2. Tsung-Ming Tu Exhibition,
3. KMU History 1-2
4. KMU Affiliated Hospitals 1-2

---
Collection Highlights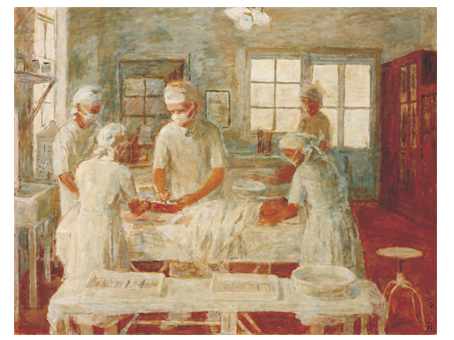 Love of Skin-Graft, 1956
Shih-Chiao Lee
In June 1928, Dr. David Landsborough IV grafted his wife Marjorie Landsborough's skin (who volunteered to donate the skin from her thigh) onto a 13-year-old boy Chou Chin-Yao to save his life. In 1956, Dr. Tu Tsung-ming, the former Kaohsiung Medical College superintendent, invited the artist Shih-Chiao Lee to create the painting "A Skin Graft with Love". Dr. Tu expected that this painting could serve as a reminder for the personnel of Kaohsiung Medical University of the very beginning mind: practice medicine to save people.