Museum of Kaohsiung Medical University Historical Archives
In the 50th year (2005) of the foundation, the university planned to establish a school history data unit with the function of presentation and data storage, which not only witnesses the glorious history of KMU since half a century, but also demonstrates to the successor of our school a significant historical mission, that is to bring KMU to the top of world-class universities. The location of the Museum of KMU Historical Archives takes into consideration the factor to make the early alumni easily recall the history. The central location declares its non-negligible significance.
Entering the hall, we could see the corridor with nostalgic style. The soft light and tone are adopted to create the atmosphere to recall the old times. The well-known painting Skin grafting with love by Shi-chiao Li is well reserved and duplicated. Its replica is being hanging up in a prominent place to fully present the great love of doctors. The two bronze status of our school's founders created by Su-fang Chao make us evoke memories of the past, pay a tribute to the assiduous and diligent tradition of the forerunners who laid the solid foundation for the development of our school. By means of the presence of the vivid historical archive, the latecomers are able to make persistent efforts and carry forward the spirit of the university, which is exactly the honorable purpose of the establishment of the Museum of KMU Historical Archives.
The museum contains five rooms for exhibition: Frank C. Chen and the Board of Trustees Exhibition, Tsung-Ming Tu Exhibition, Medical Dedication Award, Historical Events and the Presidents, KMU Chung-Ho Memorial Hospital Exhibition and The Archival Collection Room.
---
"Skin Transplantation with Love"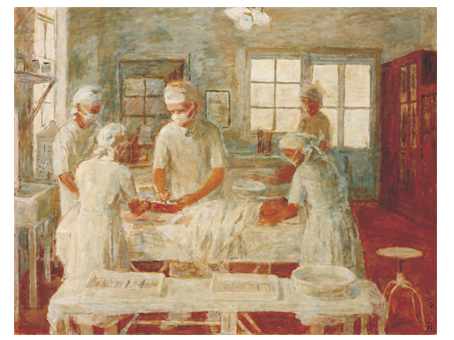 This painting depicts that story about Dr. David Landsboroungh grafted skin from his wife, Marjorie to save the life of a Taiwanese boy with serious burn wound. The heart-touching story was painted a picture by a famous local artist, Shi-Chao Lee.